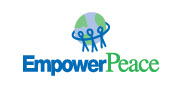 Empower Peace seeks to build a worldwide network of high school students and teachers committed to breaking down cultural barriers and misperceptions through open dialogue. Our goal is to bring about a climate of mutual respect and understanding by exposing youth to their contemporaries from abroad.
Empower Peace also hopes to assist teachers worldwide by enabling their students to learn firsthand about people and countries that they may have only experienced in schoolbooks. Furthermore, through video-conferencing and the Internet, Empower Peace hopes to create an arena where students all over the world may engage in a dialogue sharing insight into their cultures, customs and lifestyles.

Founded in 2003, Empower Peace is a nonprofit organization dedicated to bridging cultural and communication divides between young people worldwide. With a focus on connecting youth in the US and Arab and Muslim world, Empower Peace uses the latest in interactive technologies and intensive leadership training to break down misconceptions and build meaningful relationships. Through a global network of students and schools, Empower Peace is providing the next generation with the opportunities and tools needed to build cultural competencies and advance mutual respect, understanding, and peace.

Empower Peace operates three core programs:
Virtual Connections, which uses web-based interactive technologies to facilitate cultural dialogue and global understanding between youth worldwide
Women2Women, an international women's leadership program that brings together emerging young women leaders (ages 15-19) from around the globe, engages them in intensive action-oriented leadership training, and connects them to an international network of influential women leaders
Global Village, a series of civic engagement initiatives that connect youth to NGOs working within their community to provide meaningful service-learning opportunities for young people and capacity-building for NGOs.
Stand Up to Bullying, a one-day event was created to educate, motivate and empower young people to actively promote social change in their schools and communities. The Stand Up to Bullying program was developed by a community coalition of over 50 organizations who worked in partnership with renowned bullying prevention authorities to ensure the most effective messaging and call to action for students and their educators. Stand Up to Bullying utilizes a combination of educational information, entertainment and special recognition to motivate students to stand up to bullying in their schools and communities.
The EP leadership team has over 25 years of experience in strategic communications and large-scale youth programming, both at home and abroad. Using this expertise, EP programming has been broadcast via television to over 600 million people in over 100 countries worldwide.